Event
Rendering Research Workshop 2022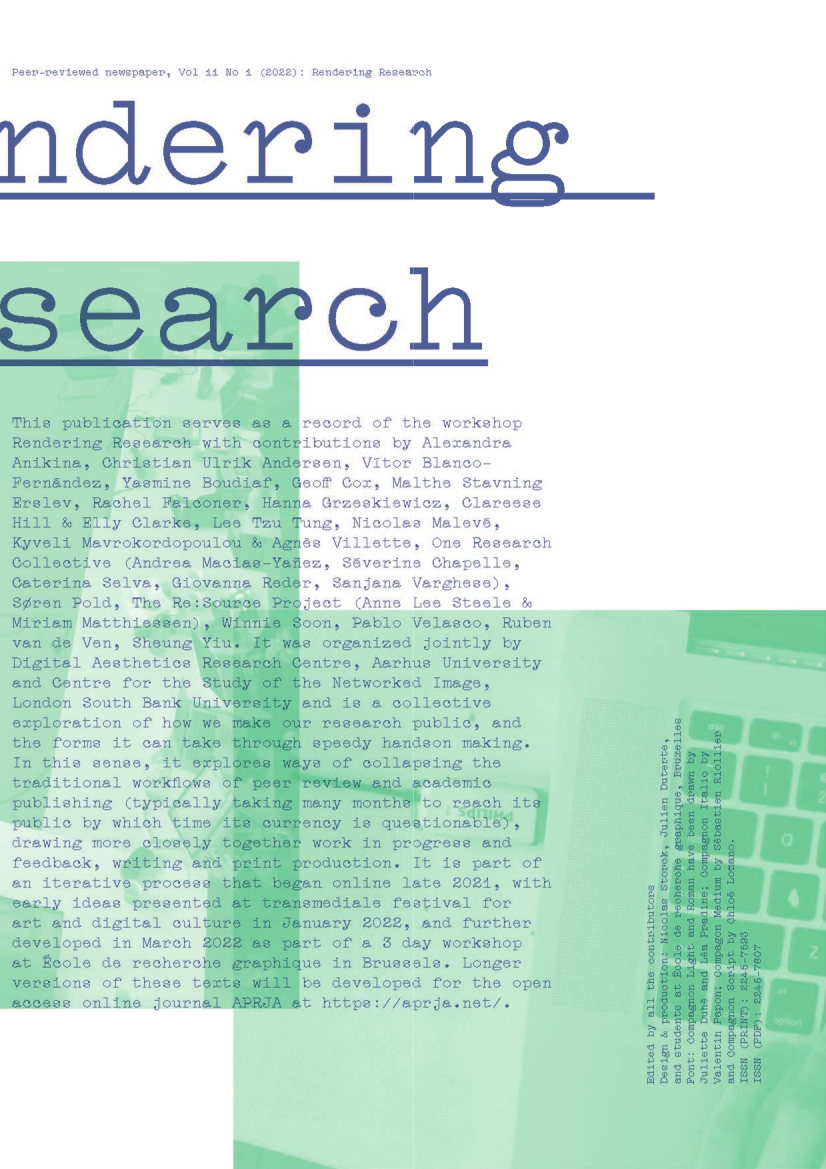 Ruben van de Ven participated in the Rendering Research workshop organised by Digital Aesthetics Research Centre, Aarhus University and Centre for the Study of the Networked Image, London South Bank University. It was hosted 24-26 March by ERG (école de recherche graphique) in Brussels.
The outcome of the workshop is published in a 'peer reviewed newspaper', by the Digital Aesthetics Research Center of Aarhus University.
About the Peer-reviewed Newspaper
(text by DARC)
The Peer-reviewed Newspaper publication series presents the outcome of a series of research/PhD workshops investigating contemporary digital culture. Since 2011, DARC has organized the workshops with transmediale festival Berlin, and included shifting partners from cultural as well as academic research institutions. At the workshops, participants interrogate the festival theme, but also reflect on possible relations to existing research practices, including peer-review, austerity measures, the scalability of research, and more. The participants are asked to write a paper and present it at a workshop. Based on this mode of peer-review they are then asked to shorten their research into the length of a newspaper article for distribution at the transmediale festival. Following the event, they are invited to submit a full version to a special issue of A Peer-reviewed Journal About [the selected research theme] (APRJA).
Vol 11 No 1 (2022): RENDERING RESEARCH
Edited by Alexandra Anikina, Christian Ulrik Andersen, Vítor Blanco-Fernández, Yasmine Boudiaf, Geoff Cox, Malthe Stavning Erslev, Rachel Falconer, Hanna Grześkiewicz, Clareese Hill & Elly Clarke, Lee Tzu Tung, Kyveli Mavrokordopoulou & Agnès Villette, One Research Collective (Andrea Macias-Yañez, Séverine Chapelle, Caterina Selva, Giovanna Reder, Sanjana Varghese), Søren Pold, The Re:Source Project (Anne Lee Steele & Miriam Matthiessen), Winnie Soon, Pablo Velasco, Ruben van de Ven, Sheung Yiu
Design & Production: Nicolas Storck, Julien Duterte, and students at École de recherche graphique, Bruxelles.
ISSN (PRINT): 2245-7593
ISSN (PDF): 2245-7607
This publication serves as a record of the workshop "Rendering Research", organized jointly by Digital Aesthetics Research Centre, Aarhus University and Centre for the Study of the Networked Image, London South Bank University – a collective exploration of how we make our research public, and the forms it can take through speedy hands-on making. In this sense, it explores ways of collapsing the traditional workflows of academic publishing (typically taking many months to reach its public by which time its currency is questionable), drawing more closely together work in progress and feedback, writing and print production (using e.g., free and open source software and risograph print). It is part of an iterative process that began online late 2021. Early ideas were presented at transmediale festival for art and digital culture in January 2022, and in March 2022 as part of a 3 day workshop at École de recherche graphique in Brussels, where this publication was produced.